Horticulture and Holidays in the Heartland
Omaha, Nebraska, is one of the country's top Midwest destinations. Known as the birthplace of Gerald Ford, the home of Mutual of Omaha Insurance, and the host of the College World Series, the city also features some spectacular attractions—including Lauritzen Gardens, an urban oasis of natural beauty located just west of the Missouri River off Interstate 80.
The Lauritzen Gardens story started in 1982. A group of volunteers began a grassroots effort to build a botanical garden on seventy-five acres in Omaha, and a bluff with wooded terrain was selected as the perfect location. After tireless planning and fund-raising efforts, the Omaha Botanical Center first opened in 1995 with a rose garden, a shade garden, herb plantings, and a flowery path. In 2001, the visitor and education center opened, and the complex was renamed Lauritzen Gardens.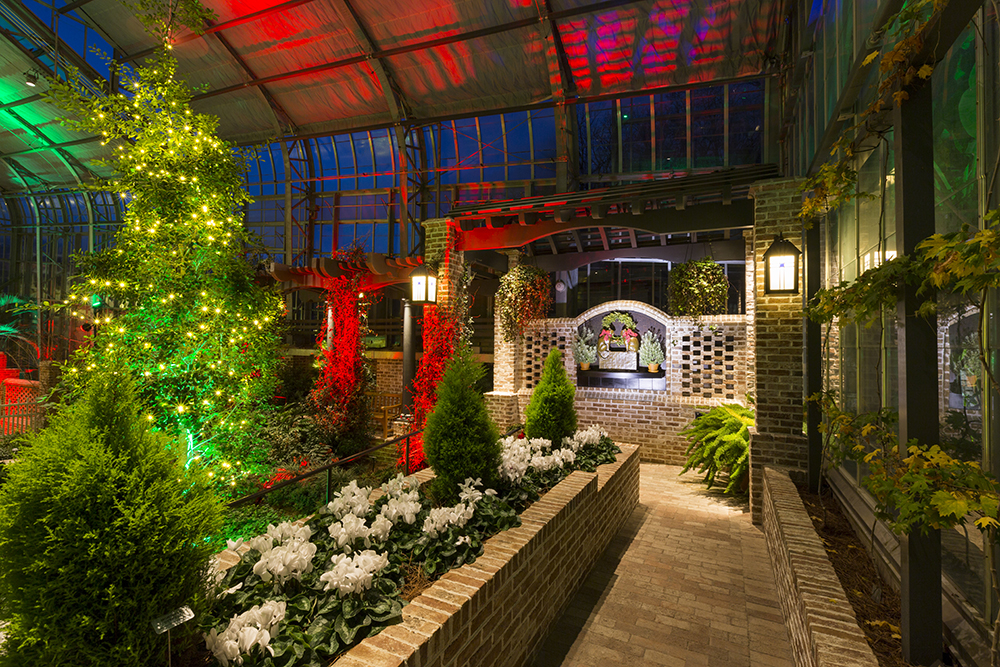 Photo by: Brad Williams Photography
Over the past fifteen-plus years, this botanical center has quickly expanded. Today, more than twenty themed gardens over one hundred acres invite guests to immerse themselves in the beauty of the Nebraska landscape and in lush indoor landscapes. Nearly 223,000 guests visited in 2016, which was an attendance record. A diverse palette of plant life combines with fine art, architectural components, and water features to create an incredible sensory experience—and advance a mission. "In addition to horticultural displays that inspire, events that entertain, and educational programs that cultivate minds of all ages, the garden works to conserve the endangered plants of the Great Plains and to advance the understanding and stewardship of the region's biological diversity," says Mia Jenkins, marketing director of Lauritzen Gardens.
"Lauritzen Gardens is a living laboratory for formal and informal education about the importance and stunning beauty of the natural world," Jenkins notes. "We sometimes look at the garden as a four-legged stool. One leg represents horticultural displays, one leg represents conservation and research efforts, one leg is representative of exhibits and special events, and the final leg is education."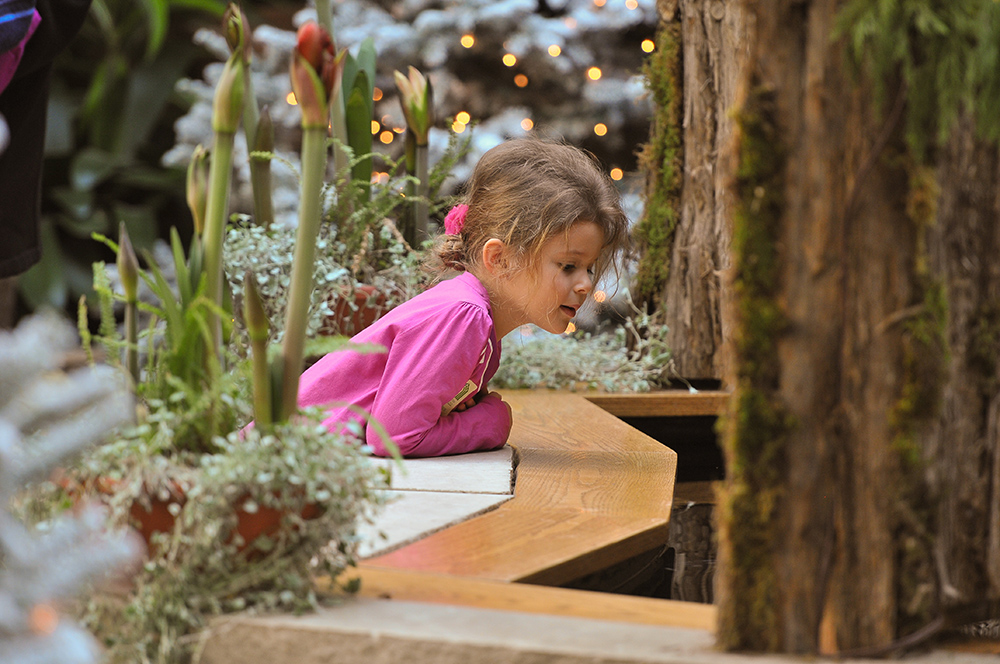 To Lauritzen Gardens, Jenkins explains, education means many different things, from formal programs to student tours to art programs to informal tours, interpretive signage, and self-guided exploration. In all of these growth opportunities, she says, "We hope to connect people to the natural world in some way and to create better stewards of the environment. Our floral shows always have an educational component to them." In this sense, they cultivate minds as well as gardens.
When you visit the gardens, you'll find a variety of exhibits to enjoy. One of the most popular attractions is the model railroad garden. Open April through October, the garden surrounds visitors with a bright botanical world featuring the activity of seven G-scale Union Pacific train lines that continuously travel through reproductions of Omaha landmarks and a miniature garden landscape. (You can also see two of the greatest locomotives ever to power Union Pacific Railroad in Kenefick Park, located at the southwest point of the Lauritzen Gardens property.)
"It is always fun to see people's faces light up when they first see the trains or recognize a building in the railroad garden," says Jenkins. "You often hear parents telling their children, 'This is where I went to school,' or 'This is where we had our first date,' or 'This is where I work.' It's rewarding to see memories being created by the simple sharing of a story brought to mind by viewing our exhibit.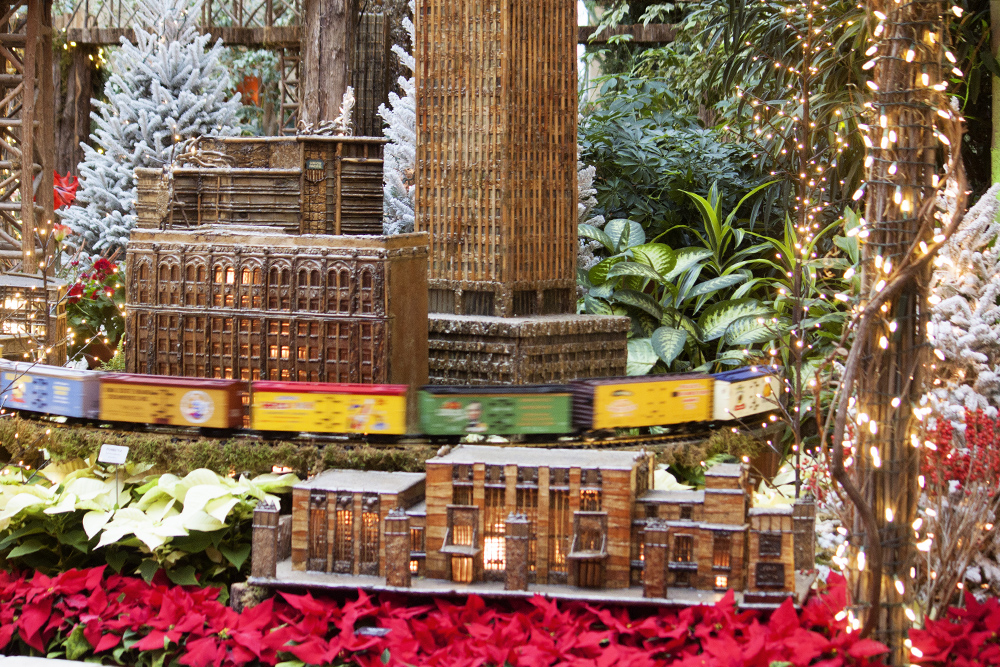 "Because of the unique construction of the buildings, you also often find guests really staring the buildings down, trying to figure out what materials they are made from," Jenkins shares. "You hear discussions and questions about gourds, seedpods, leaves, and bark. This is a subtle way to connect people back to the natural world and to see and recognize the numerous shapes, textures, and forms that exist in nature."
Nature is also on display in the many garden areas, which are as diverse as the visitors' interests. Combining prominent characteristics of both English and Victorian gardens, the plantings in the Hitchcock-Kountze Victorian Garden are both formal and casual and are flanked by architectural remnants from area buildings, which add character and charm throughout this perennial garden. The Garden in the Glen offers a serene space with deep shade and a quiet stream with pools and small waterfalls. Along with astilbes, bleeding hearts, ferns, and Japanese maples, a collection of locally bred hostas is on display. The children's garden is a whimsical environment for the young and young at heart to learn about the significance of plants in fun and innovative ways, including a corn maze and a sunflower forest.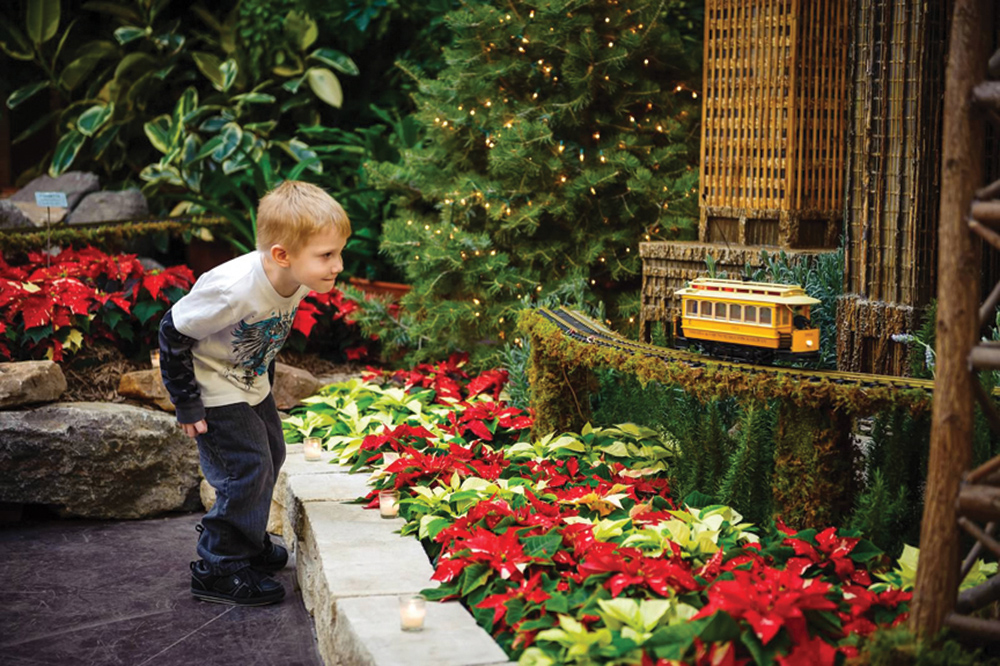 But the crown jewel of the gardens is the Marjorie K. Daugherty Conservatory, which opened in October of 2014. The 17,500-square-foot conservatory contains more than 12,000 panes of glass and is separated into three sections: a 10,000-square-foot tropical house featuring more than 1,250 plants; a southern-inspired temperate house with more than 850 plants; and a gallery designed for floral displays and private events.
Jenkins calls this magnificent structure "a permanent paradise and a truly walkable work of art that makes Lauritzen Gardens a year-round destination." She also notes that "the conservatory's two distinct display houses are home to plants that gardeners in Nebraska long to grow. It is a masterful juxtaposition to the prairie environment that surrounds it, and it provides an escape full of color, warmth, and beauty every day, every season.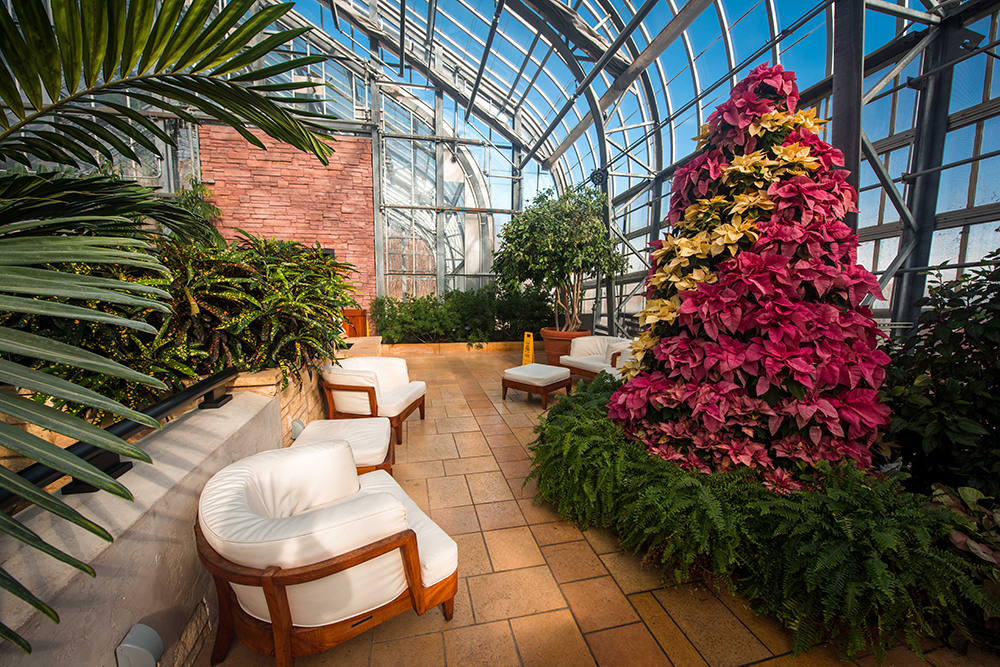 "With the visual appearance that the glass structure is growing from the hillside, our conservatory's distinctiveness lies in the gradual twenty-foot rise in elevation that visitors experience from beginning to end," Jenkins continues. "This provides surprises around every corner, including a ten-foot waterwall, dramatic glimpses of the contrasting conservatory plantings, a large pool with Victoria water lilies, and an outlook over the beautiful Missouri River Valley and the entrance to the garden's century-old bur oak forest in the middle of the city."
In contrast to other conservatories, the Marjorie K. Daugherty Conservatory focuses on what Lauritzen Gardens does best: gardens. "Older conservatories were built as garden settings or plant collections of exotic plants that were displayed in a gardenesque way," adds Jenkins. "Our conservatory is inspired by these historical conservatories and is designed to showcase the beauty of a traditional garden in the southern United States in the temperate house and collections of elegantly displayed tropical plants in the tropical house."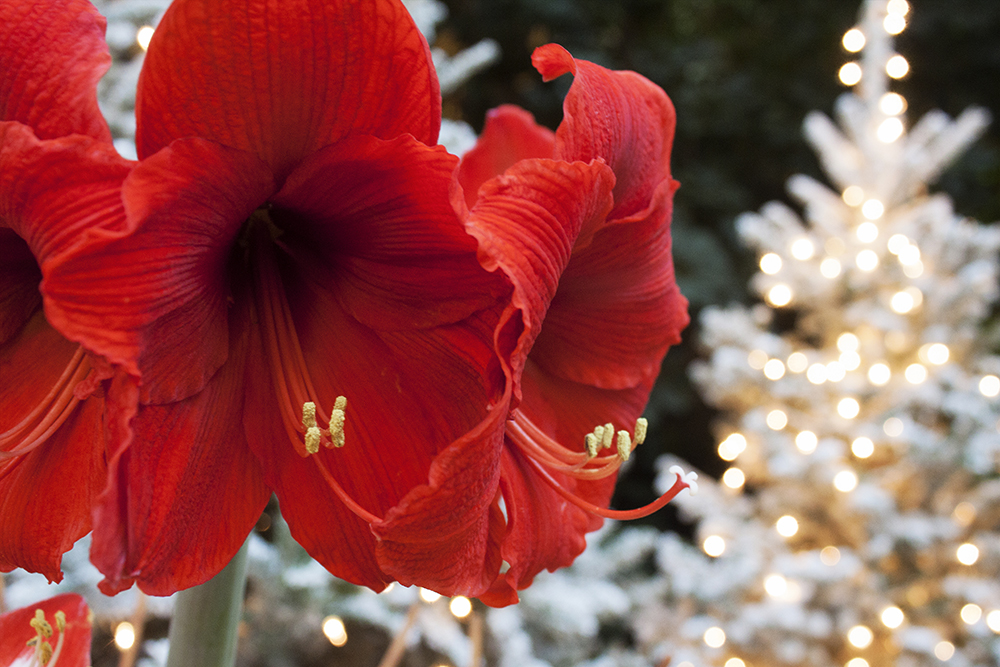 Additionally, the garden's floral display hall in the visitor and education center is home to three indoor floral shows per year: a spring flower show, a fall chrysanthemum show, and a holiday poinsettia show. The most popular of these is the latter, which was attended by more than 28,000 guests in 2016 and runs this season from November 24, 2017 through January 7, 2018. "The holiday poinsettia show has been one of the garden's signature events since the visitor and education center opened in 2001," remarks Jenkins. "It provides a burst of vibrant color during the winter season from the poinsettias, evergreen trees, and other plant materials that make up the show each year."
The process for producing such a holiday display takes time. "In early July, more than 5,000 poinsettia cuttings arrive for the holiday poinsettia show," Jenkins explains. "They're carefully grown in the garden's greenhouses over the next four months to produce the full-blooming plants needed for the show. However, we typically have a week or less to turn the floral display hall from the fall chrysanthemum show into the holiday poinsettia show. This is a big-time crunch for our horticulture and maintenance staff, but they always get the job done."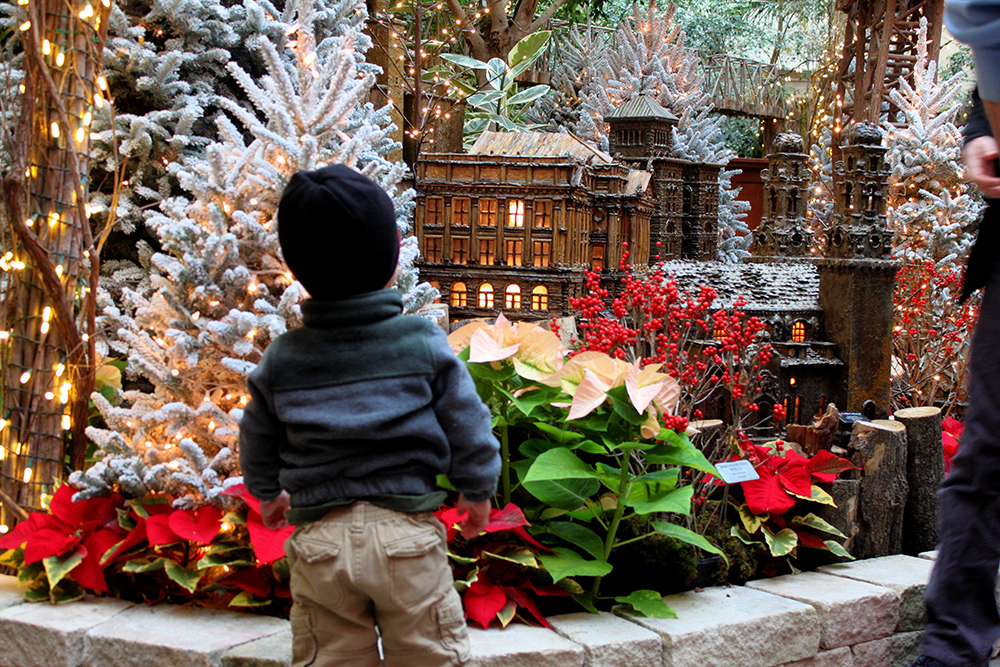 The aforementioned model trains and buildings also add to the festive feeling. The buildings' natural materials help them to blend into the landscape of the show, and the model garden trains and one trolley represent the nostalgia of trains whirring around a Christmas tree. "They're a favorite for children of all ages," notes Jenkins.
The centerpiece of the annual holiday poinsettia show, though, is the spectacular poinsettia tree. "At twenty feet in height, our poinsettia tree is the largest of its kind in our region," says Jenkins. "The iron frame for the tree is custom made and holds nearly 720 potted poinsettia plants, each set into a holder attached to the frame. The plants are watered about twice per week by a drip-irrigation tube system that individually waters each plant. The entire poinsettia tree is changed out halfway through the holiday show to ensure the plants are always fresh and beautiful."
"Everything that our team does is driven by providing a quality horticultural display and a valuable aesthetic and educational experience for our guests."
The various sections of the conservatory are adorned for the holidays as well. The temperate house is typically decked out with seasonal touches that reflect its southern nature. Magnolia swags, garlands, and wreaths adorn doors, archways, and fences. In the tropical house, you might find Christmas cacti, poinsettias, red and green bromeliads, succulents, and other colorful plants and foliage.
But people aren't the only ones enjoying this holiday spectacular, according to Jenkins: "Our wildlife trees provide food and shelter for the wildlife at Lauritzen Gardens during the winter months. We have four or five large evergreen trees decked out with a variety of natural, edible ornaments. Guests always enjoy watching the squirrels, turkeys, and other wildlife that are drawn to the trees."
Lauritzen Gardens did make one spectacular holiday upgrade in 2016, says Jenkins: "We wanted to provide something new and different in 2016, so we added light! During Holiday Poinsettia Show Aglow, the holiday poinsettia show and the plant collections in the Marjorie K. Daugherty Conservatory were adorned and enhanced with light, and we extended our hours to celebrate the beauty of the season. With twinkling trees, falling snowflakes, ornamented evergreens, and colorful spotlights, the garden was transformed into an illuminated wonderland.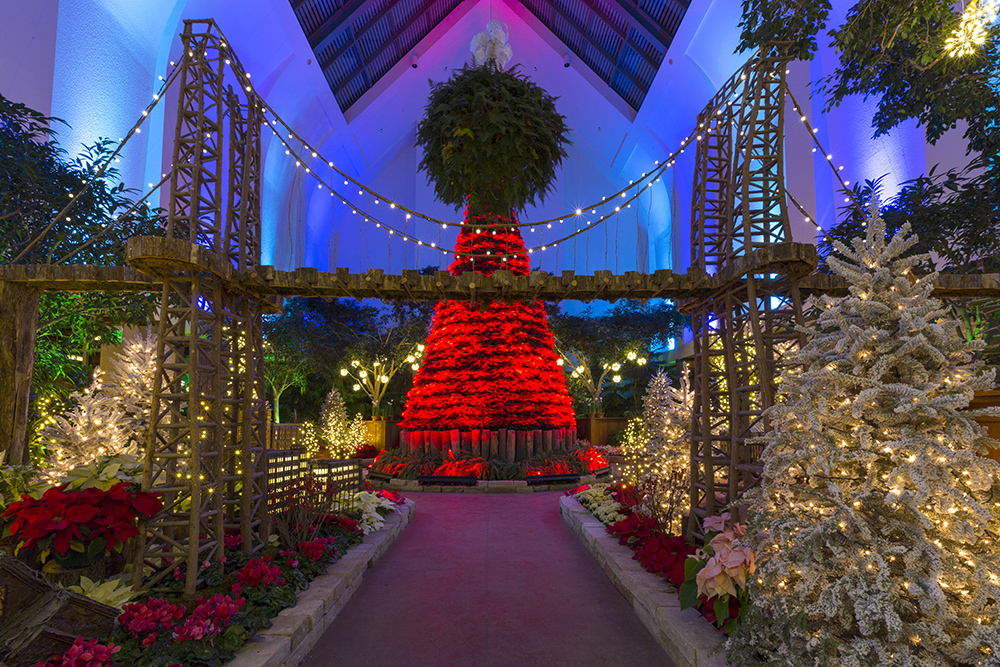 "These enchanting evenings were well received by our garden members and the public," she continues. "In terms of the overall experience, I would personally say that it created an entirely different vibe, showcasing the garden in a new light. The show really felt different from the daytime to the evening, and both were beautiful and festive in their own way."
And the ultimate measure of seasonal success? How eager visitors are to share their holiday memories of Lauritzen Gardens. "Everything that our team does is driven by providing a quality horticultural display and a valuable aesthetic and educational experience for our guests," Jenkins concludes. "When guests take the time to share their personal experiences and traditions with us, it is a very rewarding thing. It's a great feeling to know that we positively impact the community, and we are always humbled to be a part of our area's family holiday traditions. It's wonderful to receive a card with a family photo in front of the poinsettia tree, to read a positive review, or to run into guests outside of work and hear about how much they love visiting the garden during the holiday season."
For more info, visit lauritzengardens.org.
Bring the magic of the season to family and friends by sharing this feature on social media.
Up Next:
There's No Place Like Home for the Holidays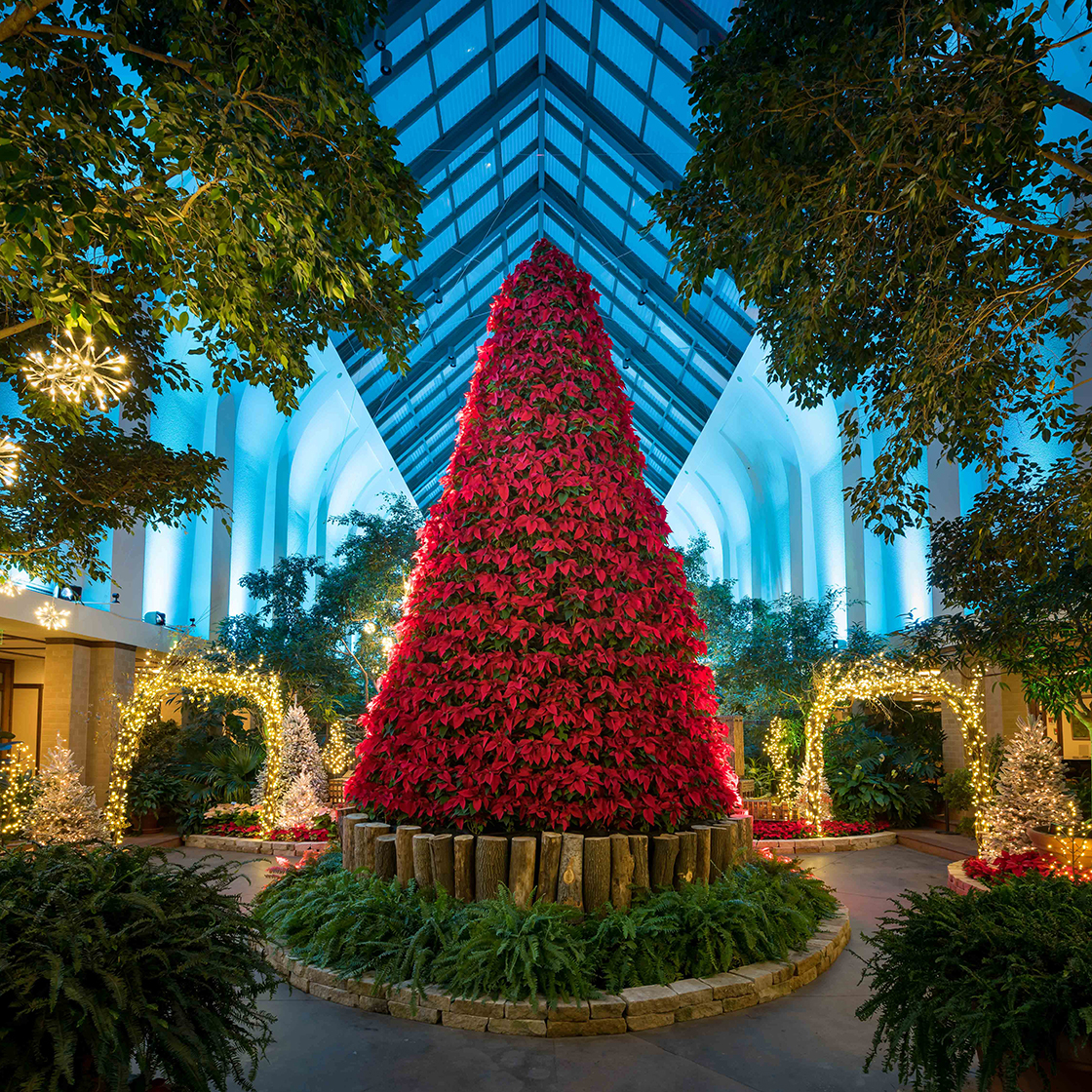 Posted in Feature, Issue 86 Vol 2 on Sep 25, 2017