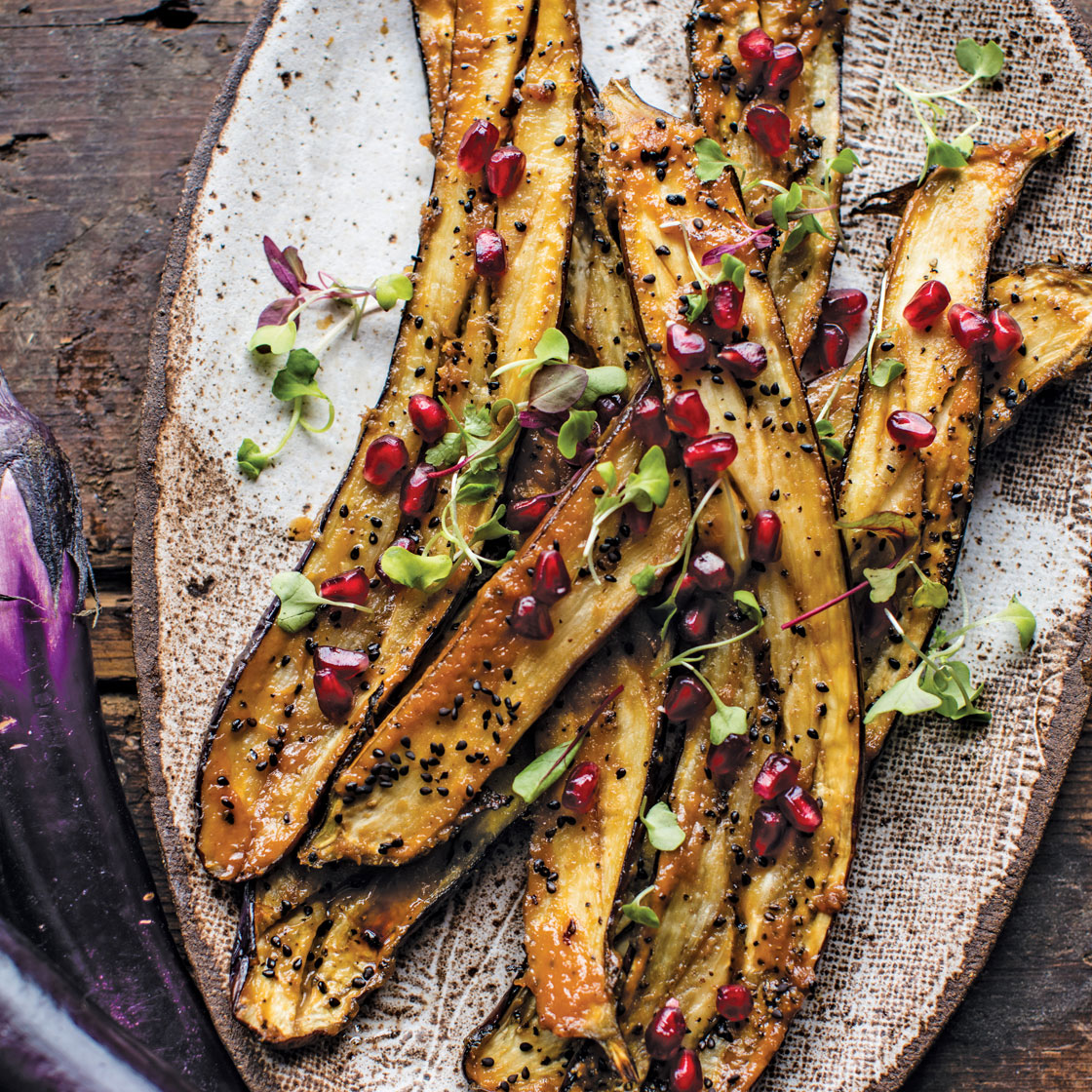 Meals from the Mountain
Ginger-Miso Roasted Eggplant with Pomegranate
This dish, salty with a hint of sweetness, has converted even the harshest of eggplant critics. The miso gives the eggplant a sweet, salty flavor, perfectly seasoning it. The pomegranate is equally important here—you'll be surprised how well it pairs with the eggplant! Plus, you really can't beat topping a dish with pomegranate seeds. They're so pretty and add a nice little crunch. This is great as a light main or side dish for the holidays with its festive colors. During the summer months, I love to grill the eggplant instead of broiling it. Grilling adds a really nice, smoky flavor. Simply grill the eggplant over medium-high heat about 10 minutes per side, until lightly charred. During the last 5 minutes of grilling, add the miso glaze. Finish and serve as directed.
Ingredients
6 medium Japanese or 3 small Italian eggplant
¼ cup sesame oil
Kosher salt and freshly ground pepper
⅓ cup rice vinegar
¼ cup white miso paste
2 tablespoons honey
1 tablespoon grated fresh ginger (from one 1-inch piece)
Toasted black or white sesame seeds, for garnish
Seeds from 1 pomegranate (about 1 cup), for garnish
1 cup microgreens (I use baby kale or beet greens), for serving
Print Recipe
Preheat the oven to 425°F.
Slice the eggplant in half lengthwise, then, using your knife, make X marks in the flesh, being careful not to cut through the skin. Place on a baking sheet and rub the flesh all over with the sesame oil. Sprinkle lightly with salt and a little more heavily with pepper. Roast for about 20 minutes, or until tender.
Meanwhile, in a small saucepan, combine the vinegar, miso, honey, and ginger. Bring to a boil over high heat and cook, stirring, for about 5 minutes, until smooth and combined. Remove the pan from the heat.
Remove the eggplant from the oven and turn on the broiler; wearing oven mitts, set a rack in the top third of the oven. Brush the eggplant generously with three-quarters of the miso glaze; set aside the remainder. Broil for 2 to 3 minutes, watching closely to prevent burning, until the eggplant is lightly charred and caramelized. Sprinkle with the sesame and pomegranate seeds, top with the microgreens, and serve warm with the remaining glaze.



SERVES 4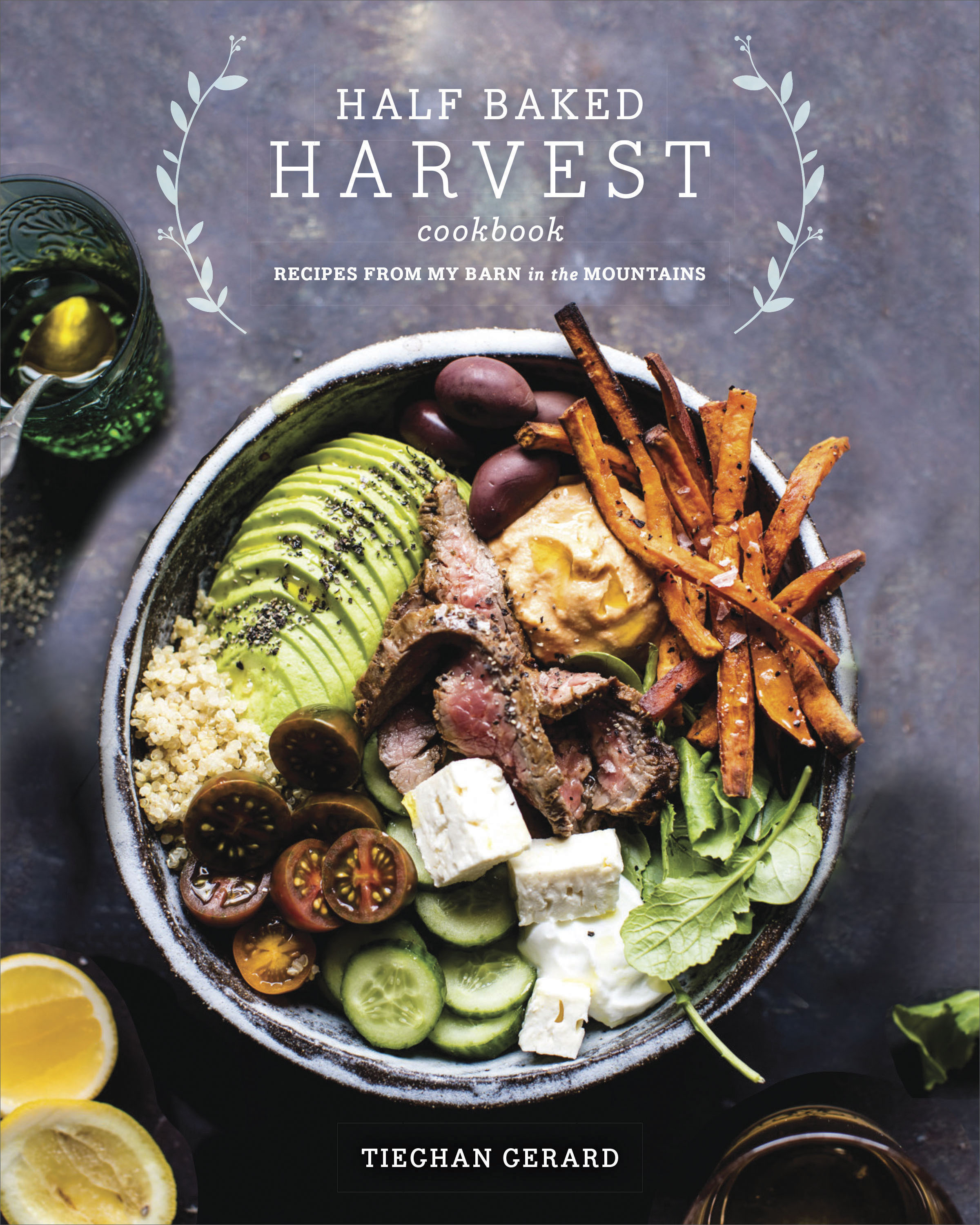 Reprinted from Half Baked Harvest Cookbook. Copyright © 2017 by Tieghan Gerard. Published by Clarkson Potter/Publishers, an imprint of Penguin Random House, LLC.
Up Next:
A Walk in the
(Water) Park
"Plant" the idea of adventurous eating in the heads of friends and family by sharing this pomegranate-peppered eggplant dish!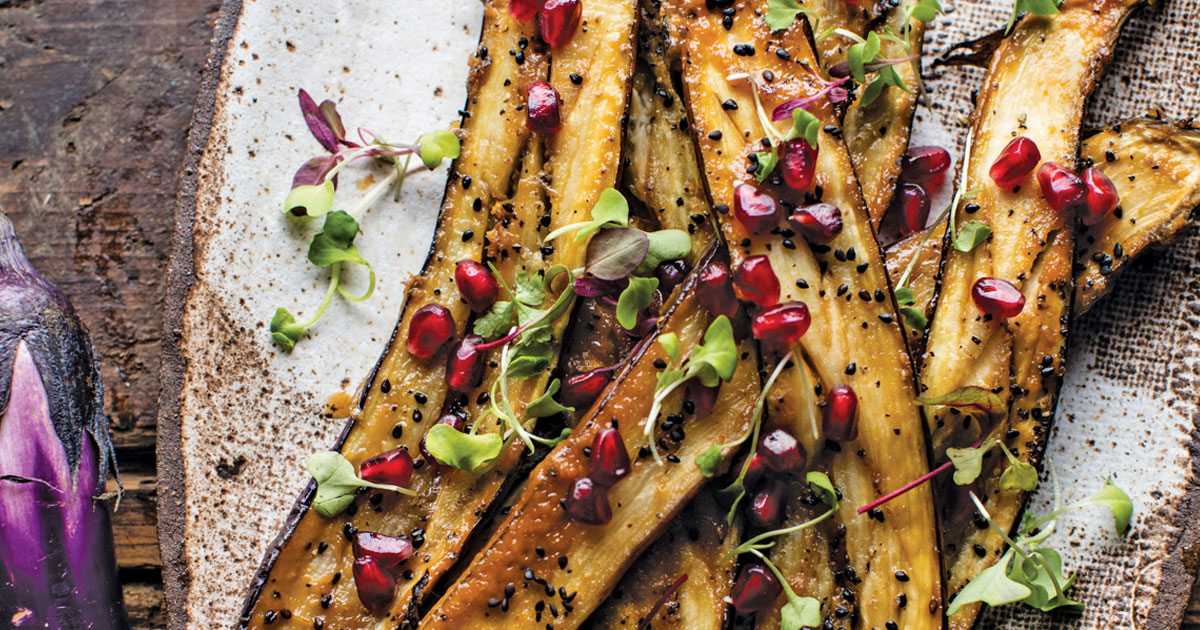 Posted in August 2018 on May 11, 2018