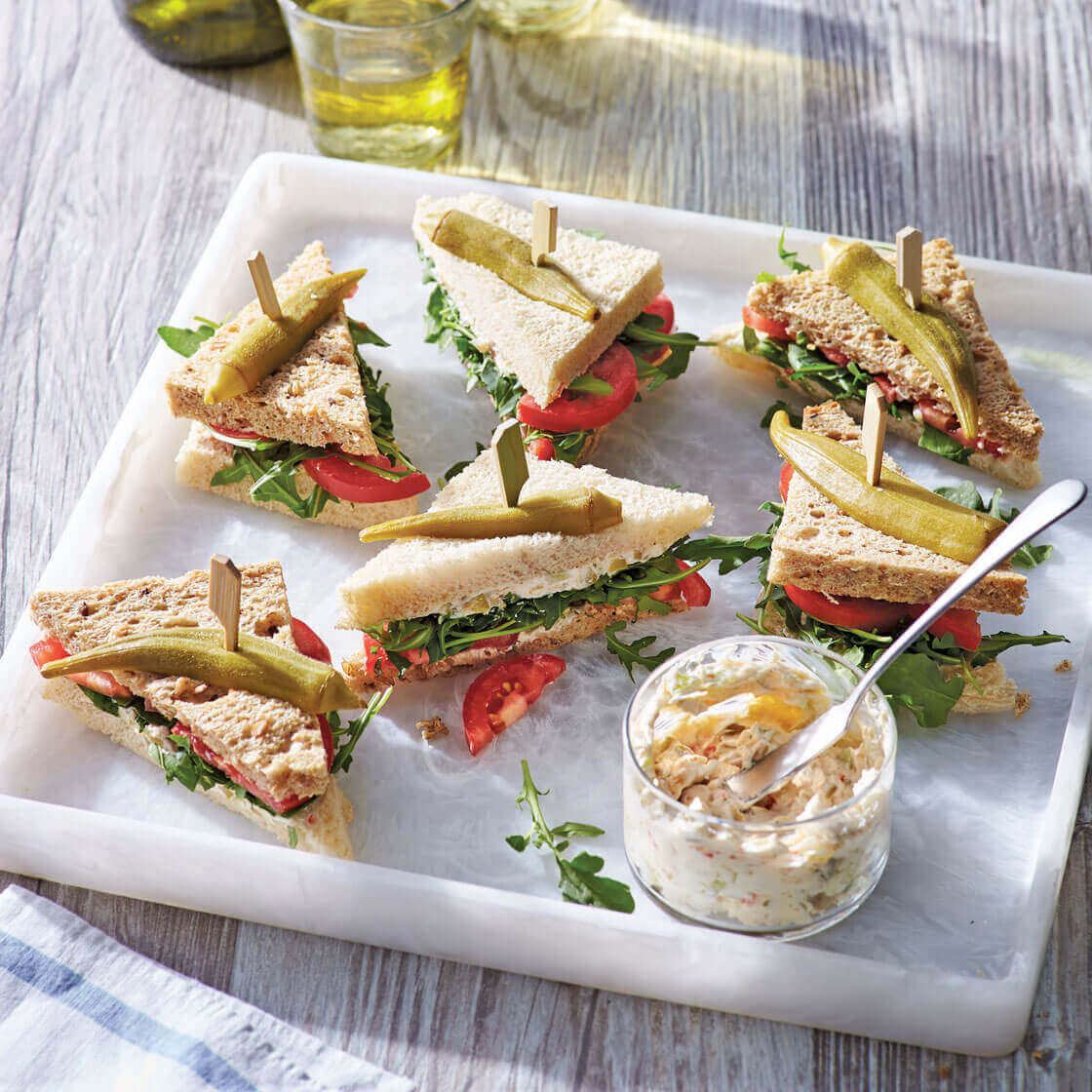 Valerie's Home Cooking
Bloody Mary Tea Sandwiches
Who doesn't love a good tea sandwich? I was in London the first time I encountered formal tea sandwiches. They were presented on a multitiered tower with small china plates. The serving was exquisite, and the sandwiches were beyond: smoked salmon, herbed butter and cucumber, egg salad and watercress. With Cajun-flavored cream cheese, fresh tomatoes, and arugula in tender white bread, this recipe is a fun twist on the tomato and cheese sandwich—and the pickled okra is a secret favorite of mine that provides a smile-inducing zest.
Ingredients
1 (8-ounce) package cream cheese, softened
¼ cup pimiento-stuffed green olives, drained and finely chopped
¼ cup finely chopped celery (about 1 stalk)
½ tablespoon Cajun seasoning
½ teaspoon anchovy paste
½ teaspoon lemon zest
10 white sandwich bread slices
10 whole-wheat sandwich bread slices
40 (⅛-inch-thick) plum tomato slices (4 to 5 medium plum tomatoes)
2 cups loosely packed baby arugula
Pickled okra or pickled jalapeños (optional)
Print Recipe
Stir together the cream cheese, olives, celery, Cajun seasoning, anchovy paste, and lemon zest in a medium bowl until well blended.
Place the white bread slices on a work surface, and spread about 2 tablespoons of the cream cheese mixture on each slice. Place the wheat bread slices on the work surface; top each with 4 of the tomato slices in a single layer, and add a few arugula leaves. Place 1 white bread slice, cream cheese-side down, on each prepared wheat bread slice.
Using a serrated knife, remove the crusts from the sandwiches with a gentle sawing motion, and cut into 40 triangular tea sandwiches.
Cover with plastic wrap, and chill until ready to serve. Garnish each tea sandwich with a piece of pickled okra or a pickled jalapeño, if desired.
Variation: Make it a bloody bull tea sammie by adding a thin slice of roast beef.
SERVES 10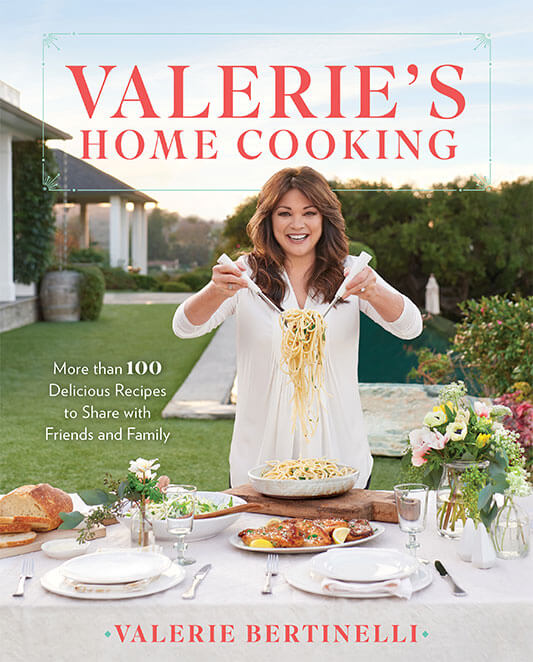 Excerpted from Valerie's Home Cooking by Valerie Bertinelli. Copyright © 2017 Oxmoor House. Reprinted with permission from Time Inc. Books, a division of Time Inc. New York, NY. All rights reserved.
Up Next:
A "Par-Tea" for the Ages
When it comes to a fun lunch idea, share these sandwiches to satisfy your friends and family to a "tea."