The Sweet Taste of Success
It's been said that eating is a necessity, but cooking is an art. Chocolatier Kate Weiser would certainly agree. After training across the country, she perfected her own style of chocolate culinary art and turned it into a Dallas-based business, Kate Weiser Chocolate, which offers breathtaking works that are as delicious as they are beautiful.
Where did you grow up? Was food a big part of your family life?
I grew up in Kansas City, Kansas, and had a great childhood. My dad was really into food and still is. He would pair food with wine and made sure that I had an appreciation for a well-cooked meal. Food was always made with love, and cooking someone a nice meal was considered the best gift in my family.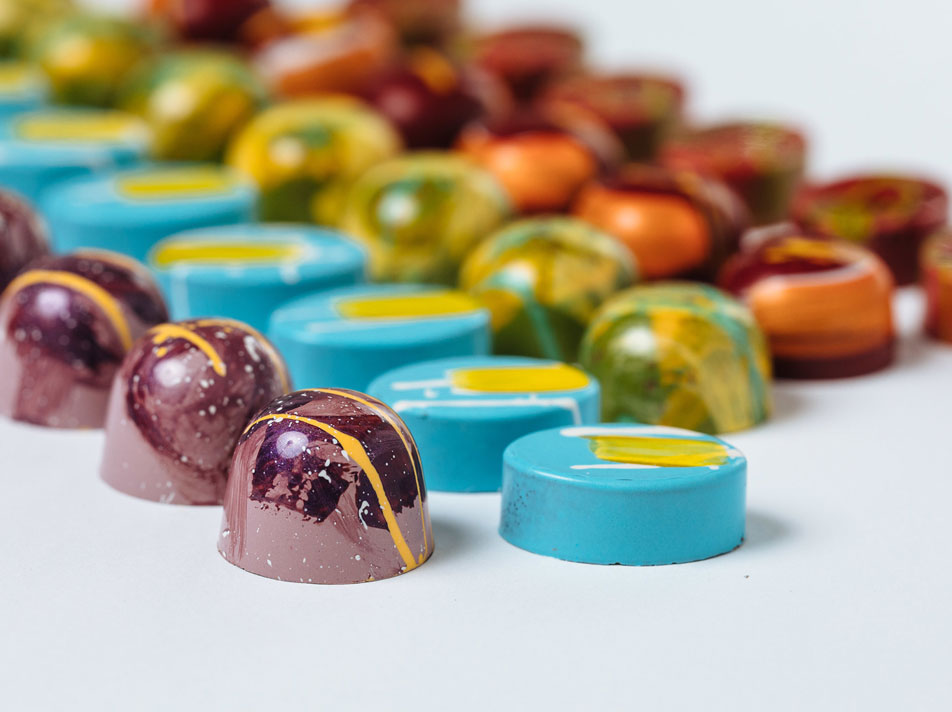 When did you first have an interest in culinary creations?
I started baking and making pastries in my parents' kitchen growing up. I would give my parents a grocery list and spend weekends making desserts out of cookbooks that were way above my skill set. This would usually result in huge messes and food explosions, but I loved it. I began collecting dessert cookbooks when I was ten or eleven.
What was your inspiration for turning chocolate into works of art?
I've never really known exactly where the inspiration comes from. I think once you come to the realization that anything can be created out of chocolate and eliminate any restrictions on yourself, the ideas can flow easily. I was never an art student or would say that I was great at painting or drawing, but chocolate somehow speaks to me.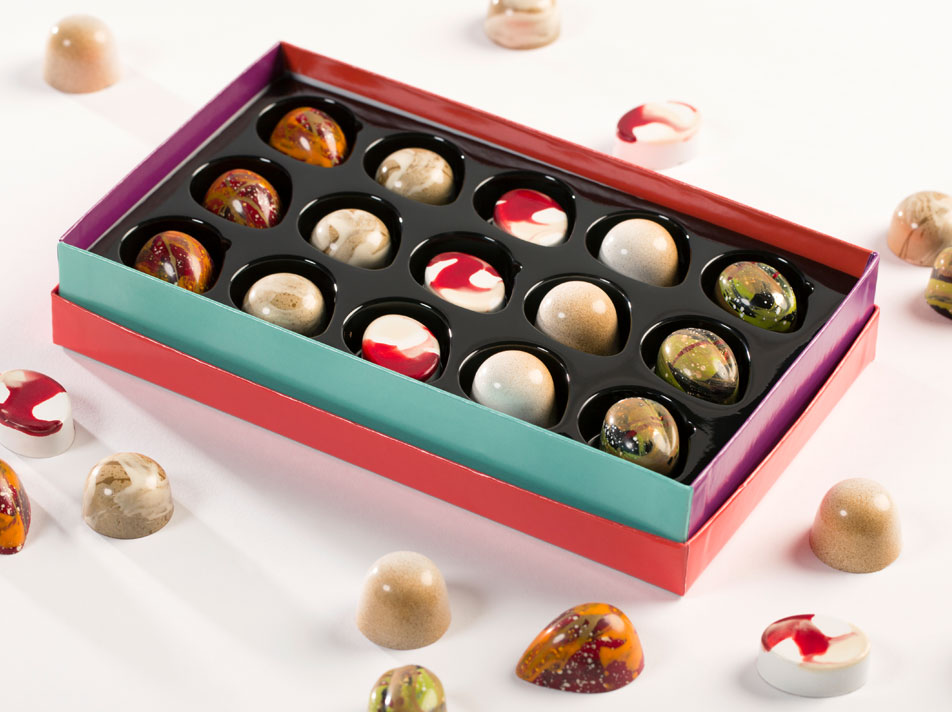 What's the process for creating a new chocolate? Is it like art?
Chocolate is not just an art; it is also a science. Creating the colorful and artistic shell of the chocolate is the easy part; the science is in the fillings. You have to maintain a balance between flavor and texture while also maintaining shelf life. So you might have a recipe that has a long shelf life, but if it doesn't taste exactly the way you want it, it's back to the drawing board.
How do you create the paint-like effect on your chocolates?
I use colored cocoa butter. The company I source for this ingredient uses food colorings to create different colors. Cocoa butter paints on a lot like acrylic paint, but you have to temper it just like chocolate. It's a great ingredient to use to express the flavor within the chocolate. We use a couple of techniques that we layer onto the mold. Flicks and splats come first, and then something I call the "crazy brush." It's basically a "close your eyes and move your paintbrush really fast" technique. Last, we airbrush the entire mold with another solid color.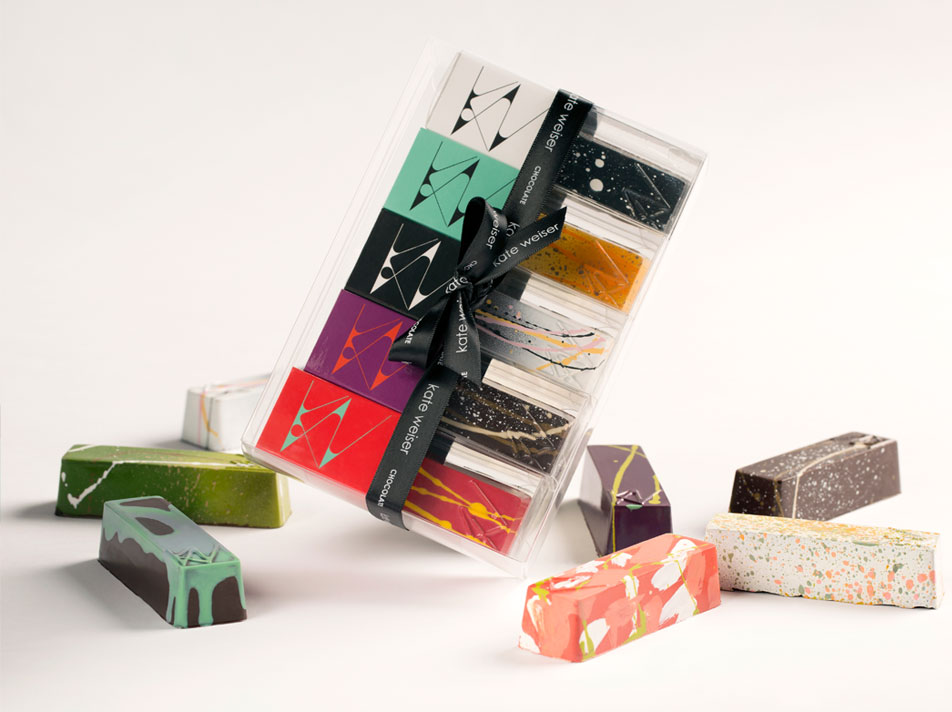 How many different flavors of chocolate do you offer? What are the most popular? What are your personal favorites?
We have thirty different flavors of chocolate. Our most popular are hazelnut latte, key lime pie, peanut brittle, and truffle honey. I cannot stop eating the key lime pie and the passion fruit chocolates.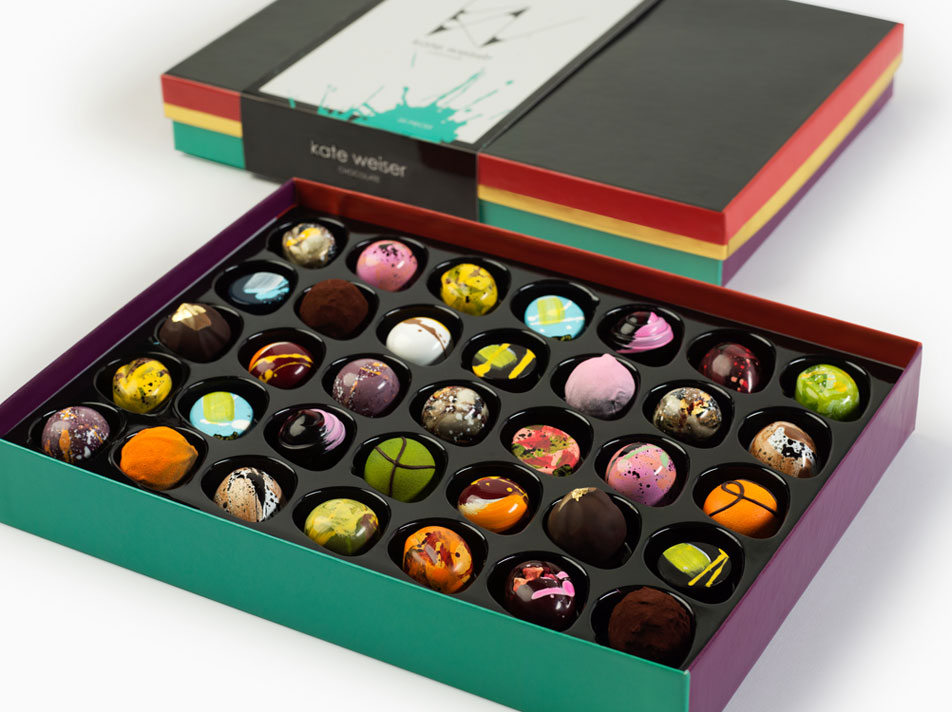 Who do you look up to in the chocolate-making world? Is there someone you're dying to see walk through the doors of your shop?
I've had the pleasure of meeting one of my chocolate heroes, Christopher Elbow. I also admire Thomas Haas, David H. Chow, and Francisco Migoya, to name a few. I still have so much to learn and these chefs continue to inspire me every day.

I think if Patrick Roger walked into my shop, I would have a mini heart attack. Someone more mainstream would have to be Gordon Ramsay. I remember watching Kitchen Nightmares on the night I moved into my shiny new kitchen. I think everyone opening a food business should binge-watch a season of that show. You can learn so much from watching other people's mistakes. The businesses on the show that have succeeded are the ones where the owner doesn't give excuses or blame anyone else and is willing to change and take charge. That stuck with me, and I would thank him for that.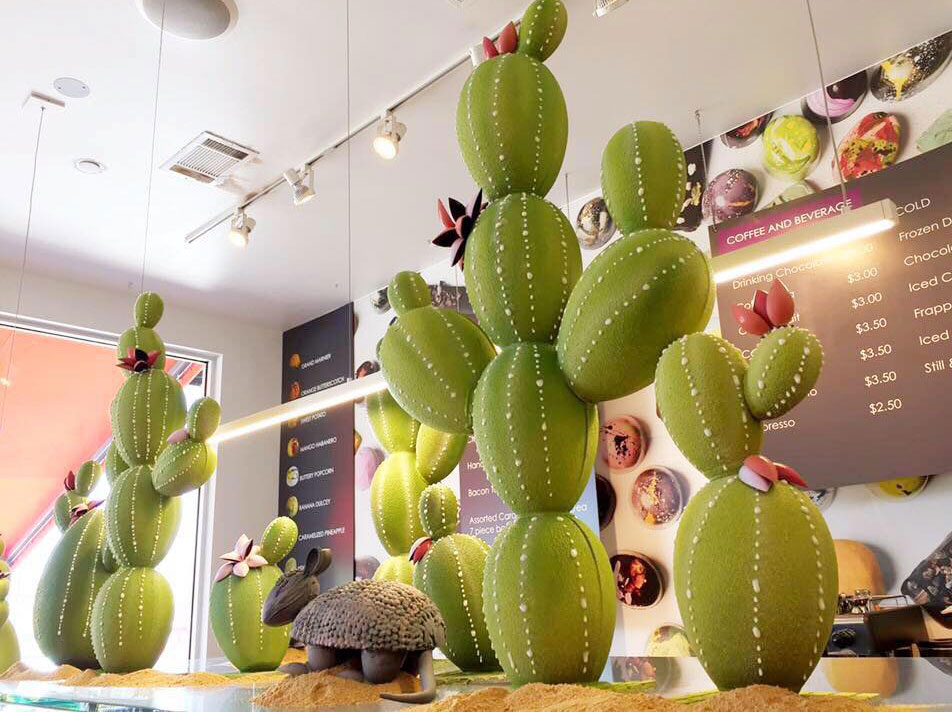 How important is it for you to push boundaries, both in your business and in life?
If you are not pushing yourself and your own boundaries, then you are stagnant. Growth is uncomfortable, but the challenge is what makes me feel alive. Life would be too boring if I just stuck to the status quo.
How much of what you do is fun and how much is hard work?
It's all fun and it's all hard work, if that makes sense. The most fun part is putting something new into production. The hard work comes into play when my team and I realize we have to make 20,000 of whatever it is.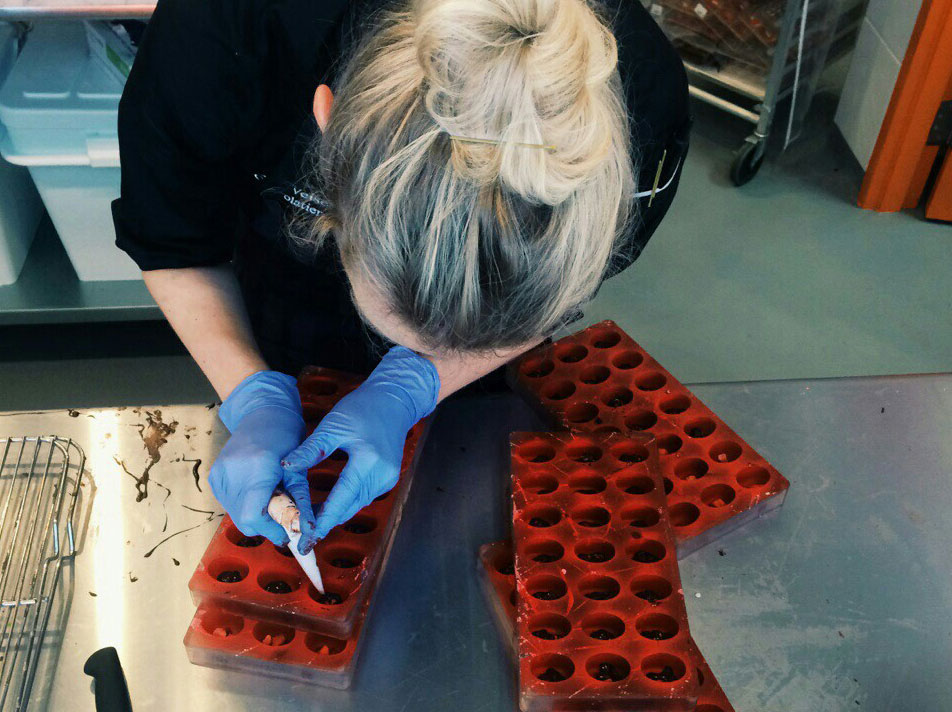 What does creativity mean to you in the kitchen? What are some of the most memorable showstoppers your team has created?
I think creativity is a muscle. You have to work out your creative muscles to stay in creative shape. There was a point in my business when I was not in the kitchen as much as I would have liked, and once I got back into it, it took me a long time to get the creative juices flowing again.

Our most memorable showstoppers would be our Easter chocolate displays. Each year, we create a themed display out of chocolate eggs. The first year was the solar system, with each planet and the sun as an egg. The 2017 display was probably my favorite—it was a desert scene with chocolate cacti made out of egg shapes.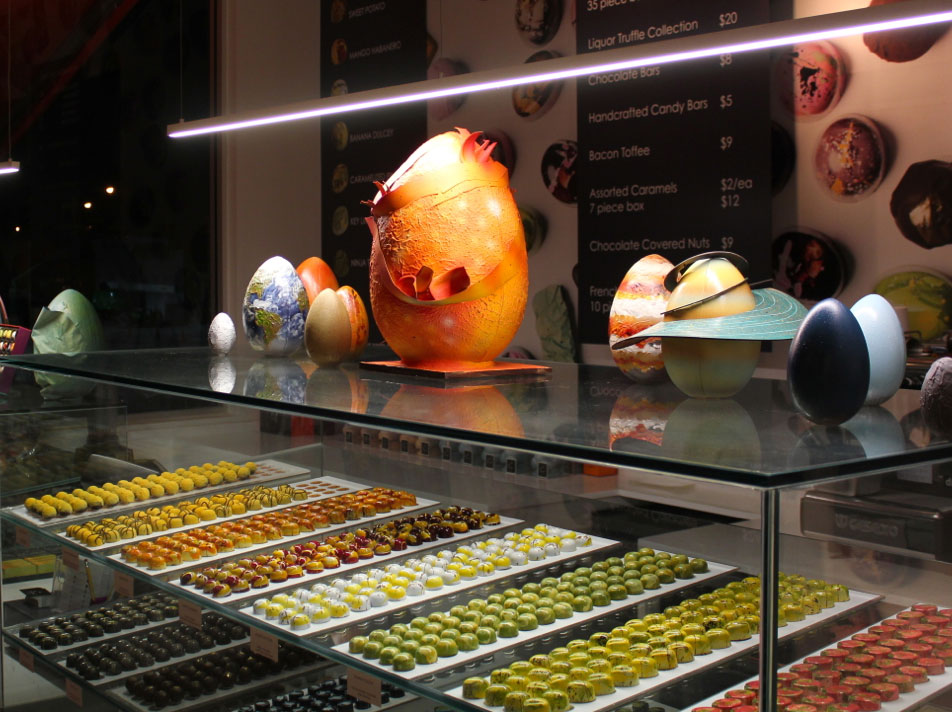 What are you passionate about outside of making chocolate?
Chocolate making is obviously my number one passion, but I do love food in general. I have so many restaurants on my bucket list that I would travel halfway around the world just to eat in. I love cooking at home, experimenting, and learning more about the savory side, too.

I also have a huge passion for fitness and exercise and what it does for the mind and body. I love the discipline and the pain of training. I love feeling strong and motivated and pushing myself as hard as I can. It's really incredible what it does for my creativity, my stress levels, and my focus in the kitchen. I would be my own "kitchen nightmare" if I didn't get my workout in.
For more info, visit kateweiserchocolate.com
Up Next:
A Blooming Smile
Give your friends and family a sweet treat on social media by sharing Kate Weiser's success story.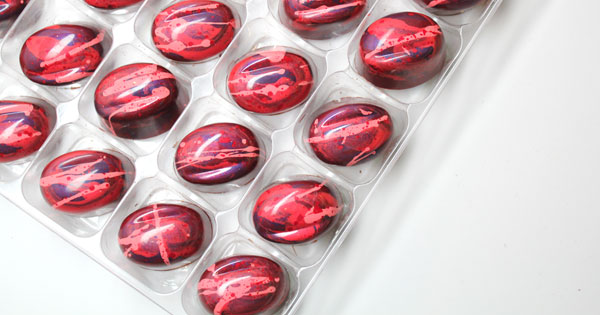 Posted in April 2018, Feature on Jan 22, 2018