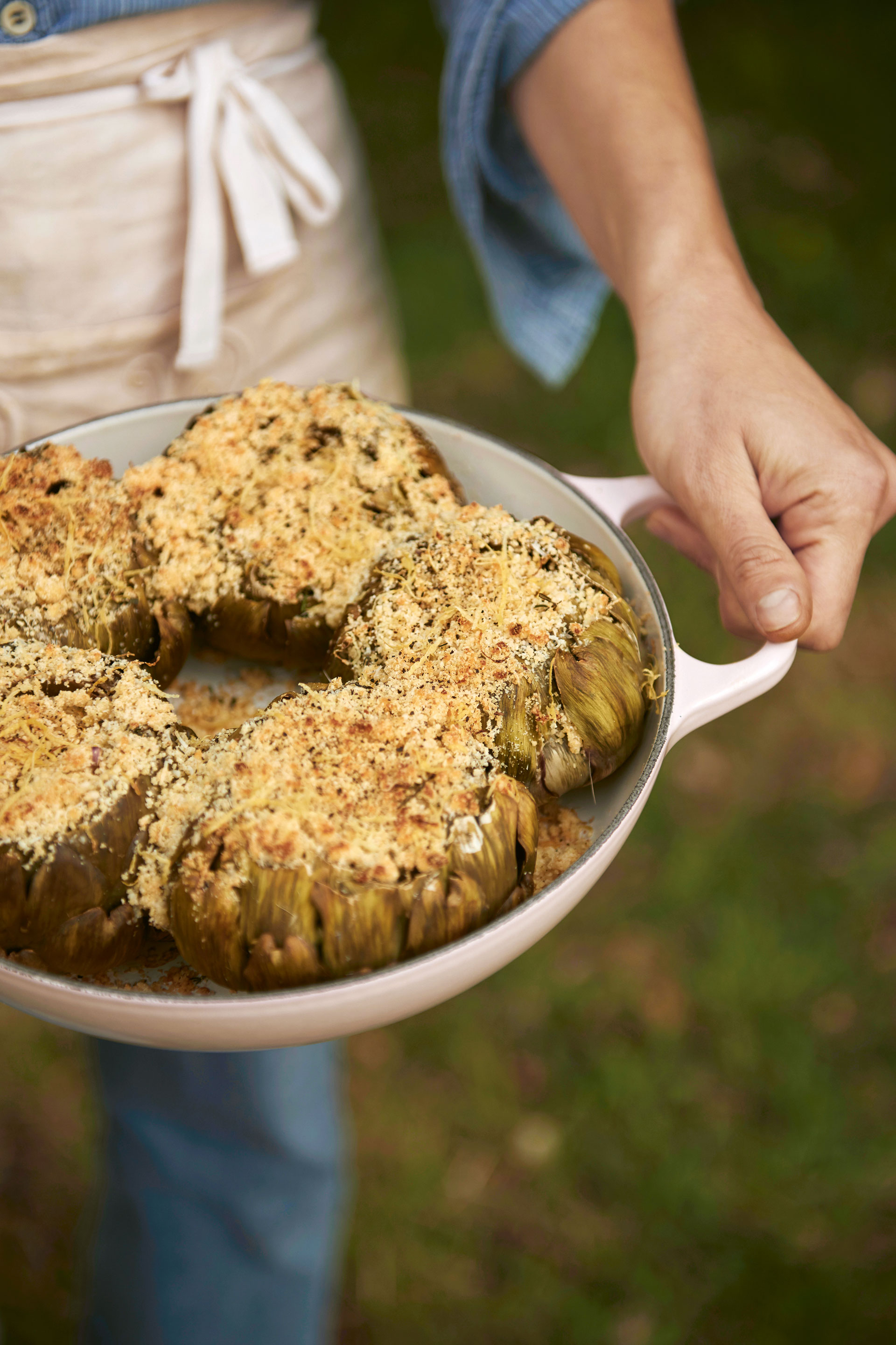 Flavorful French Fare
Stuffed Artichokes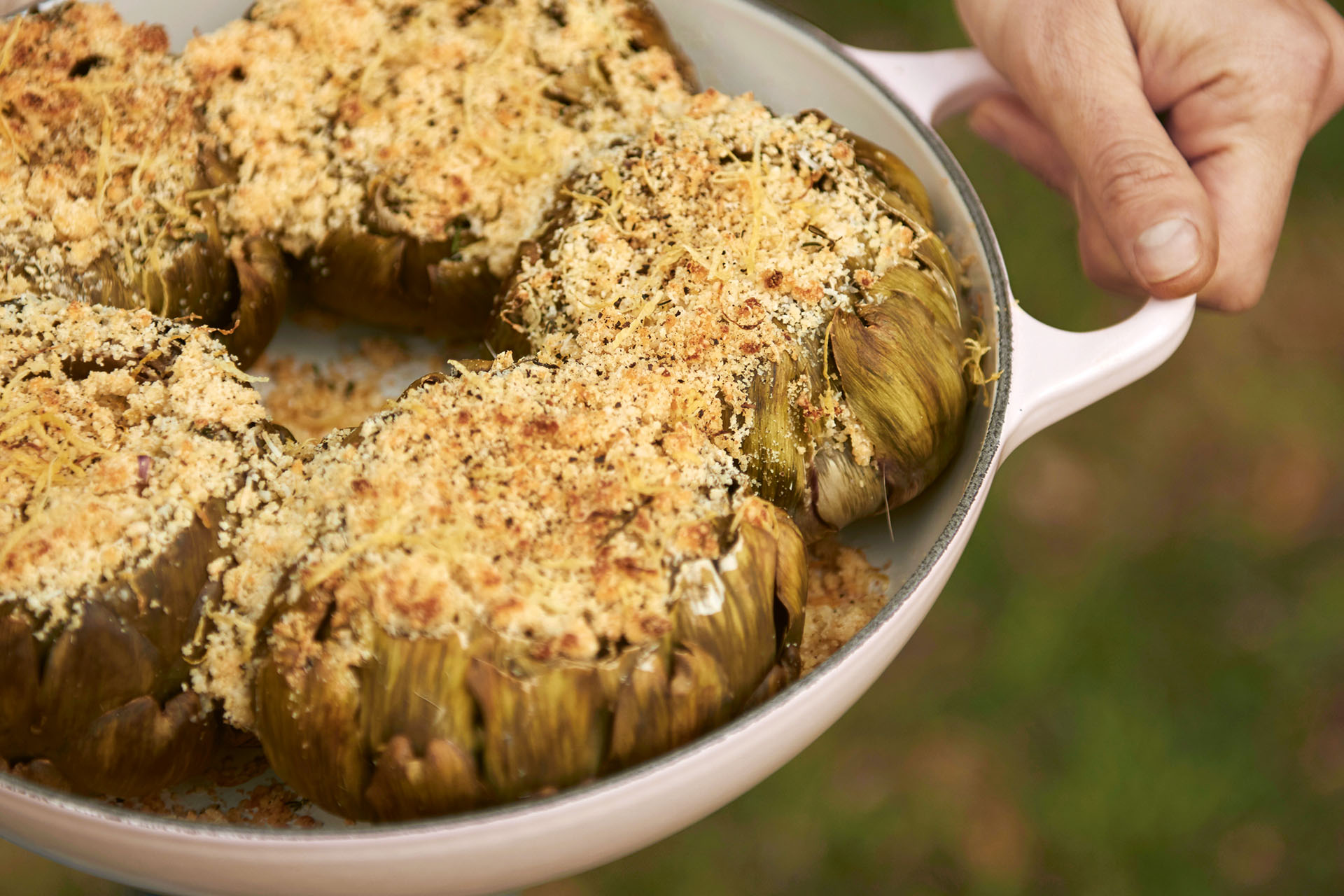 Grapes grow abundantly in my Maltese mother's garden. When I open the bedroom window, I can almost grab the plump fruits dangling from the vines, their skin stretched and ready to burst. Spoiled with lots of sun, they ripen quickly on the archipelago, and as September nears, it's time to snip them off their branches and turn them into a fruity tart. I use store-bought puff pastry for this recipe; it's a convenient solution if you're looking for a quick yet impressive picnic treat.
Serves 5
Ingredients:
5 globe artichokes
3 lemons, preferably organic
2 cloves garlic, finely chopped
Extra-virgin olive oil
3 c. bread crumbs
Leaves of 3 sprigs fresh parsley, chopped
Leaves of 3 sprigs fresh basil, chopped
1½ c. Parmesan, grated
Salt and freshly ground pepper
Print Recipe
Instructions:
Cut off the base and the top 1¼ inches of each artichoke and remove the tough outer layer of leaves.
Grate the zest and squeeze the juice from 2 of the lemons. Set the zest aside and pour the juice over the artichokes to prevent browning.
Steam the artichokes for 20 minutes and let cool.
Meanwhile, juice the remaining lemon, then sauté the garlic in a skillet over medium heat with a small amount of olive oil and a pinch of salt. When the garlic begins to color, stir in the lemon juice, bread crumbs, parsley, and basil.
Season to taste with salt and pepper, stir in the lemon zest, and remove from the heat.
Preheat the oven to 350°F. Remove the inner leaves from the center of each artichoke and scoop out the chokes with a teaspoon.
Stir the Parmesan into the bread crumb mixture, then stuff this filling into the cavity of each artichoke, packing some between the leaves as well. Sit the artichokes close together in a single layer in a baking dish, drizzle with olive oil, and bake for 15–20 minutes, until the artichokes are completely tender and the bread crumbs golden. Serve hot or warm.
Share this flavorful and filling artichoke dish with friends and family.
Up Next:
Grilled Cedar-Plank Salmon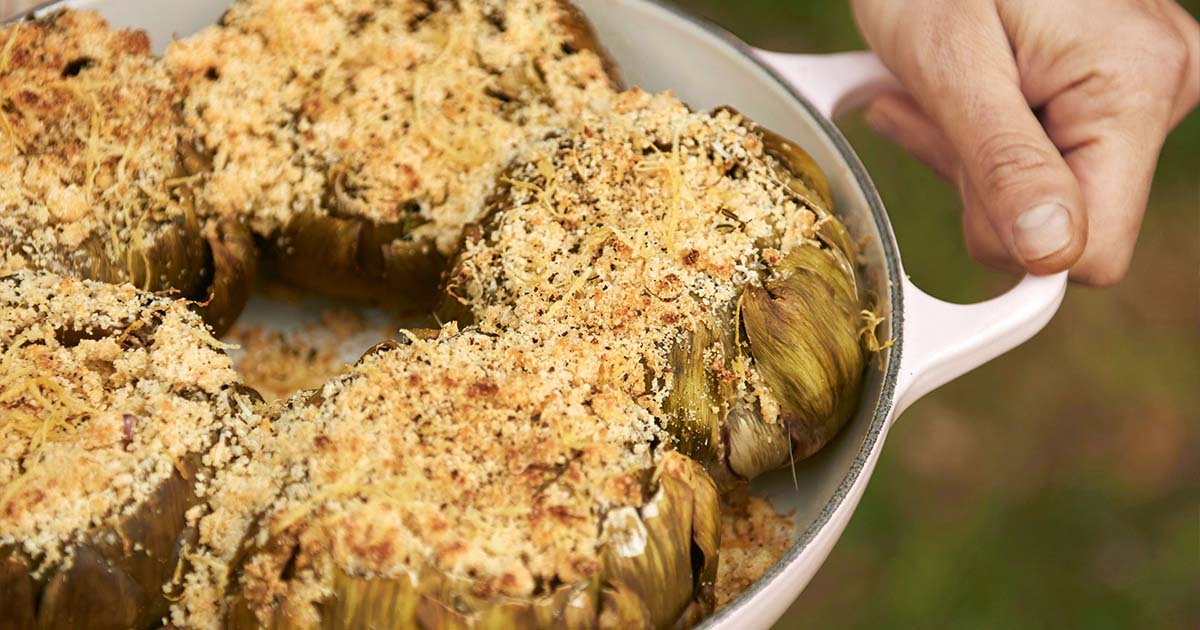 Posted in September 2021 on Jun 01, 2021