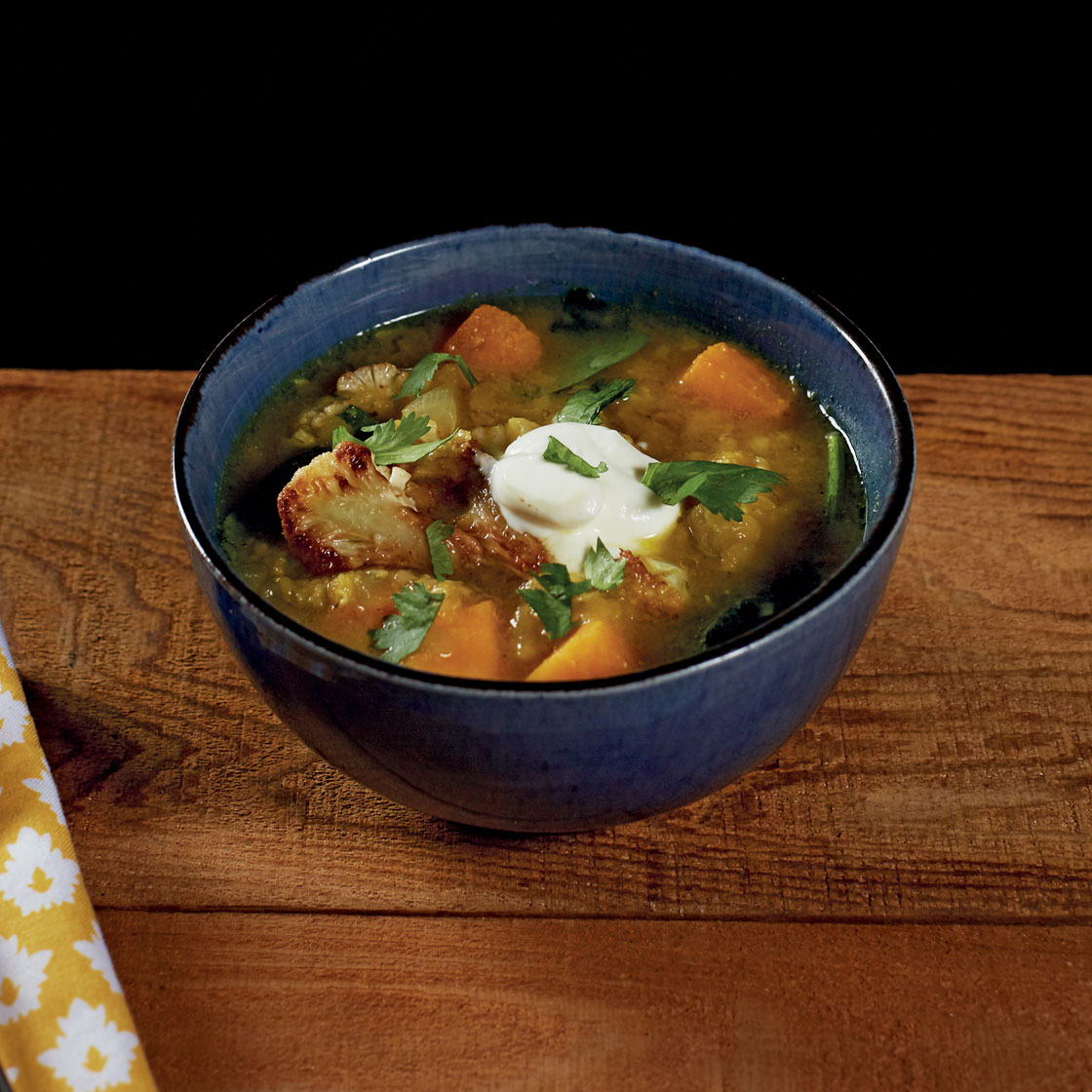 Spicy Red Lentil Soup
with Butternut Squash and Cauliflower
I'VE OFTEN TOLD MY STUDENTS that I could become a vegetarian if I lived in India. I love the way that country's cooks take humble ingredients like okra, potatoes, spinach, and lentils and transform them with fragrant spices, yogurt, and fresh herbs. The following recipe is a good example. Red lentils, or dhal, and a medley of winter vegetables are simmered with spices in stock until tender. As they cook, the lentils lose their coral hue, and break down into a rough purée that thickens this soup.
Ingredients
6 tablespoons canola oil
2 cups cubed (½–inch dice) butternut squash or same quantity of pre-cut squash
2 cups cauliflower florets, cut lengthwise into ½-inch slices; packaged florets work fine
1 cup chopped onion
1½ teaspoons curry powder, plus more if desired
1¼ teaspoons ground ginger
1 teaspoon
ground cumin
Freshly ground
black pepper
1 cup red lentils
2 teaspoons
minced garlic
5 cups chicken broth or stock, plus more if needed
2 cups (packed) baby spinach leaves
Kosher salt
1 cup
Greek-style yogurt
¼ cup chopped cilantro
Print Recipe
In a large, heavy pot (with a lid) over medium heat, heat 2 tablespoons of oil until hot. Add squash and cook, stirring often, until cubes are browned lightly and slightly tender, 5 to 6 minutes. Remove and set aside.
In the same pot, heat 2 more tablespoons of oil until hot. Add cauliflower, and cook, stirring often, until lightly browned and slightly tender, about 4 minutes. Remove and set aside.
In the same pot, heat the remaining oil until hot. Add onions and cook, stirring often, until slightly softened, 2 to 3 minutes. Add curry powder, ginger, cumin, and several grinds of black pepper, and stir 30 seconds. Add lentils, garlic, and 4 cups of the chicken broth or vegetable stock. Bring soup to a simmer. Reduce heat to low, cover, and simmer until lentils start to break down and lose their color and mixture thickens, 15 to 20 minutes.
Stir in squash, cauliflower, and remaining 1 cup of broth or stock. Cook, stirring occasionally, until the vegetables are very tender, 4 to 5 minutes. (Soup can be prepared two days ahead. Cook to this stage; cool, cover, and refrigerate. Reheat, stirring, over low heat.)
Add spinach, stirring 1 to 2 minutes, until wilted. If soup is too thick, thin with a few tablespoons of broth. Season with salt and a pinch of curry if needed.
Ladle soup into bowls and garnish each serving with a dollop of yogurt and a generous sprinkle of cilantro.
SERVES 6
Start the year right by sharing the gift of comforting Indian-style soup with family and friends.
Up Next:
A Case of the Winter Blues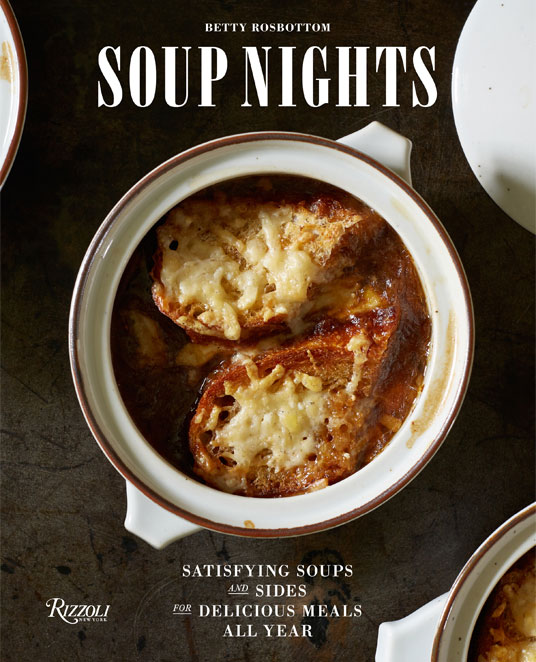 Excerpted from © Soup Nights by Betty Rosbottom, Rizzoli New York, 2016. Images © Harry Zernike and may not be reproduced in any way, published, or transmitted digitally, without written permission from the publisher.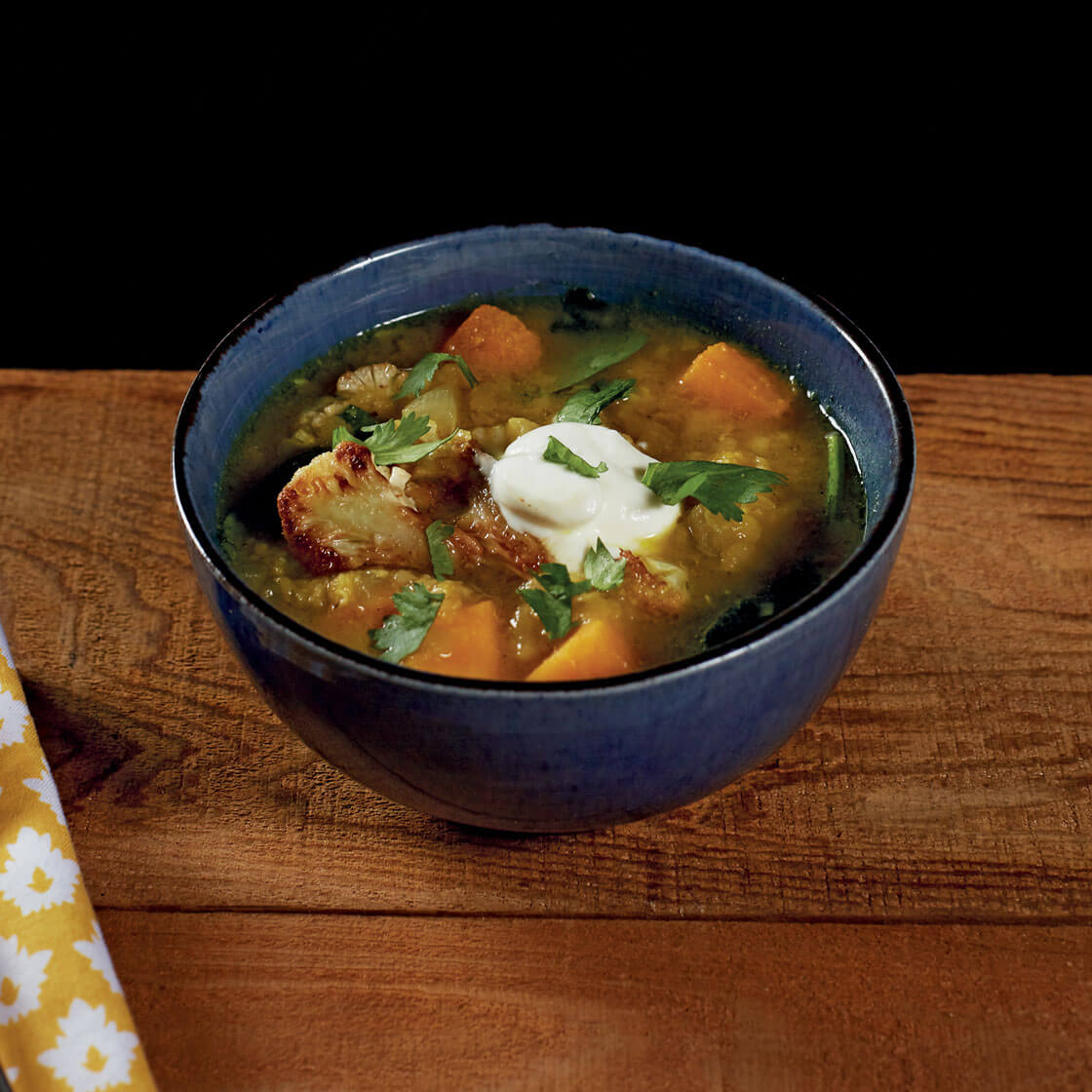 Posted in January 2018, Recipe on Nov 02, 2017