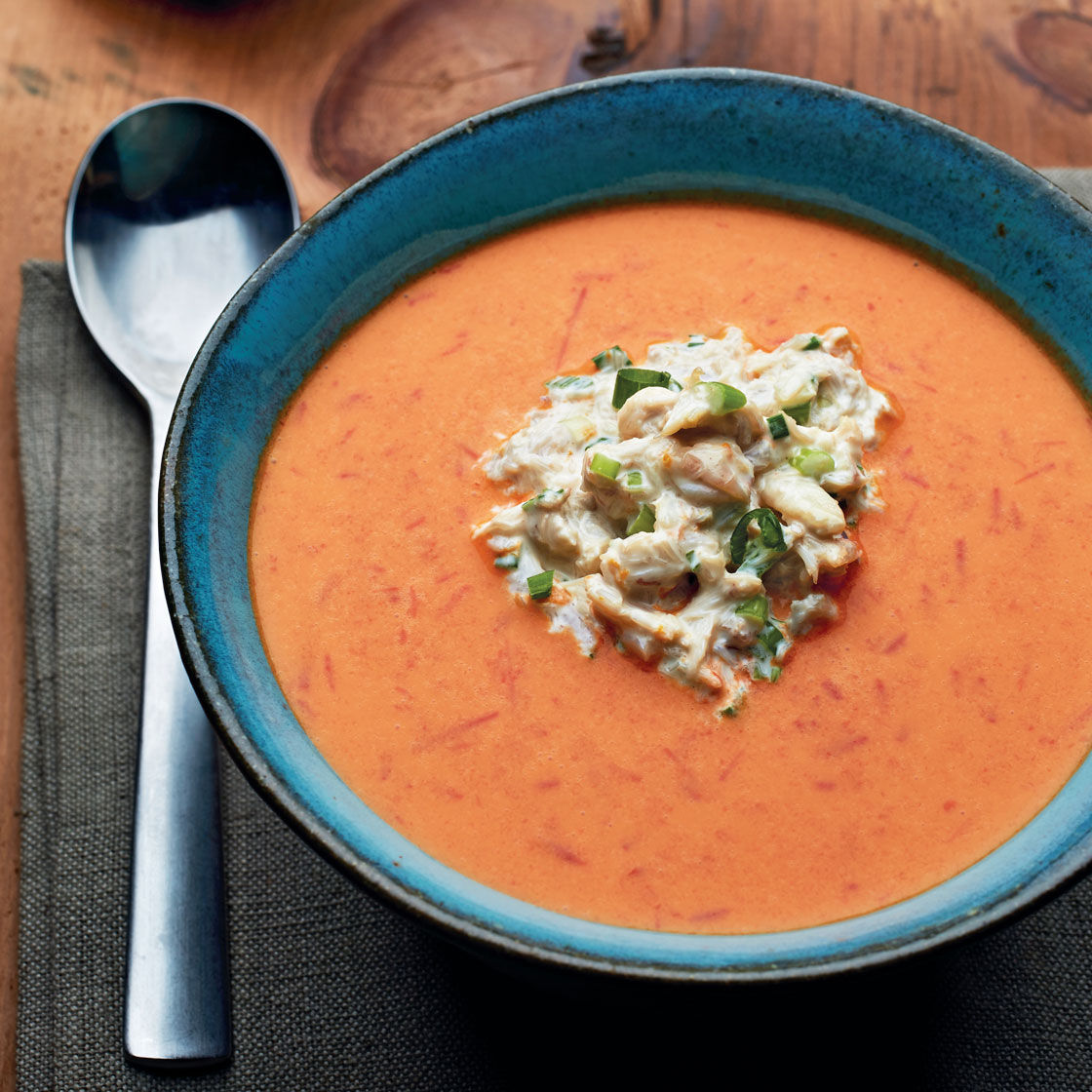 Red Pepper Velouté
with Crab Salad
On a warm summer night in Paris, my good friend and gifted cook Brigitte Bizot brought out a bright orange soup of puréed red bell peppers. When I asked for the recipe, I was surprised to learn how simple it was. I made it several times, eventually embellishing it with scoops of a refreshing crab salad. The seafood counters the peppers' sweetness with its citrus accent. You can serve this soup warm, at room temperature (as my hostess did), or chilled.
Ingredients
For the Soup
1½ pounds large (about 6) red bell peppers
4 tablespoons unsalted butter
3 cups chicken broth or stock, plus more if needed
5 ounces cream cheese at room temperature
Kosher salt
Pinch cayenne pepper (optional)
For the Crab Salad
½ cup good-quality (not reduced-fat) mayonnaise
1¼ teaspoons dry sherry
1 teaspoon grated orange zest
8 ounces fresh crab meat, picked over
3 green onions, including 2 inches of the green stems, chopped
2½ tablespoons chopped chives
Print Recipe
Stem the peppers then quarter them lengthwise. Cut out and discard seeds and membranes. Slice peppers lengthwise into ½-inch-wide strips to yield about 5 cups.
In a large, heavy pot over low heat, melt butter. When hot, add peppers and stir to coat well with butter, 1 to 2 minutes. Cook, stirring occasionally, until peppers are very soft but not browned, 45 to 50 minutes or more.
Add broth, then whisk in cream cheese. Cook, stirring, until cream cheese has melted and soup is just barely warm, only a few minutes. (Don't worry if there are still specks of cream cheese.)
Purée the soup in batches in a food processor or blender, then return it to the pot. (Or, use an immersion blender to purée the soup in the pot.) There may be tiny bits of red pepper remaining after the soup is puréed. If soup is too thick, thin with a few tablespoons of stock or water. Season with salt to taste and a pinch cayenne for extra heat. (The soup can be prepared one day ahead. Cook to this stage, cool, cover, and refrigerate. Bring to room temperature to serve or reheat if serving warm. If serving chilled, season with more salt if needed since chilled soups often need extra seasoning.)
For the crab salad, in a medium bowl whisk together mayonnaise, sherry, and orange zest. Stir in crab, green onions, and chives, and mix to blend. (Crab salad can be prepared 4 hours ahead; keep covered and refrigerated.)
To serve, fill a ¼-cup measuring cup or a small ramekin with crab mixture and unmold in the center of a shallow soup bowl. Ladle some soup around the crab mixture. Repeat to make 5 more servings.
SERVES 6
Bring a taste of summer to your friends' and family's long winter nights with this pepper-filled, crab-topped soup.
Up Next:
Cauliflower Soup with Crispy Chorizo, Lime, and Cilantro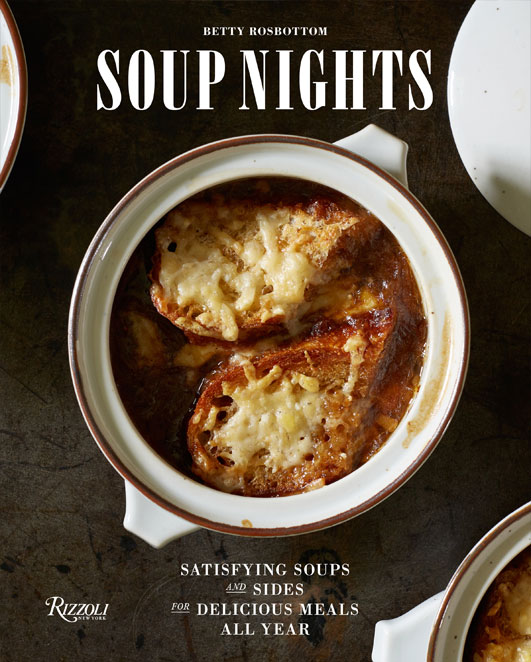 Excerpted from © Soup Nights by Betty Rosbottom, Rizzoli New York, 2016. Images © Harry Zernike and may not be reproduced in any way, published, or transmitted digitally, without written permission from the publisher.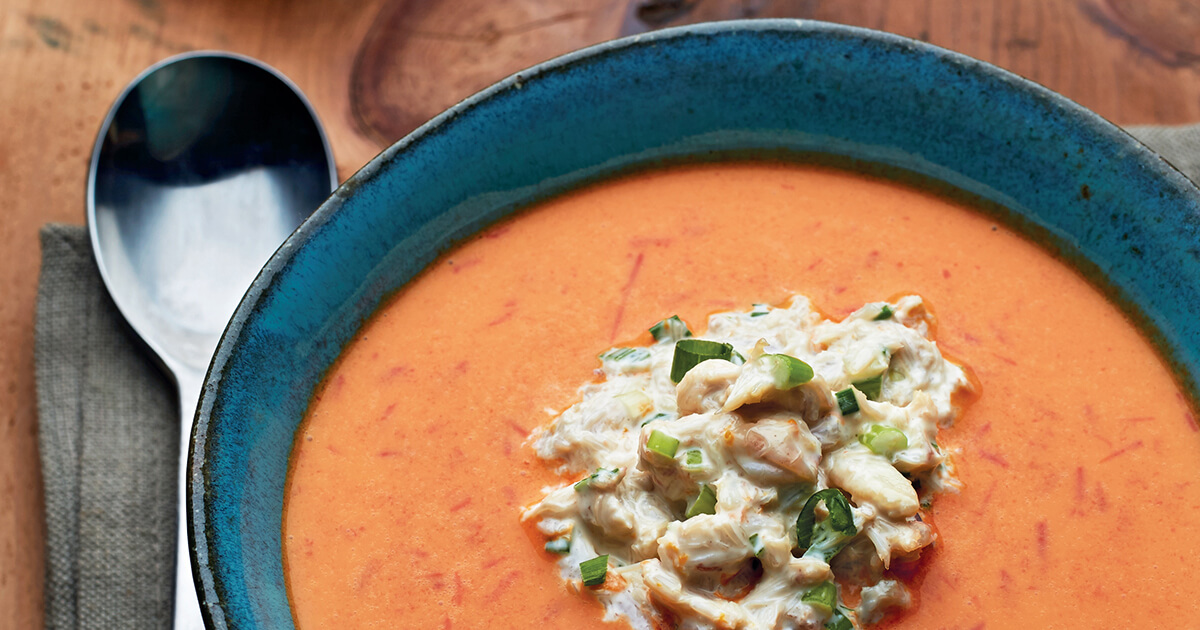 Posted in February 2018, Recipe on Nov 20, 2017